Whatspace presents: Sigrid Calon, book + print, performance
Zaterdag 18 mei aanstaande organiseert Whatspace in de Goretti kapel een bijzondere boekpresentatie van: Sigrid Calon To the extend of / \ | & -, Within the grid and beyond the pattern. 120 compositions in form & colour, stencilprinted on RISO. Dit boek behoort tot de selecte uitverkoren boeken van 'Best Verzorgde Boek 2012'.

Naast het boek zal een selectie prints van Sigrid Calon te zien zijn en wordt de boekpresentatie opgeluisterd met een speciaal voor deze gelegenheid gemaakte bijzondere performance van Jaqueline Hamelink in samenwerking met Oona Doherty.
They Died With Their Boots On / Teksas
Opening May 11 / 15:00 - 19:00
or by appointment only

Åbning 11. maj / 15:00 - 19:00
eller efter aftale
Riette Wanders
Frank Ammerlaan
Ronald de Bloeme
Koen Delaere
Jan van der Ploeg
Meet Marlow Moss / Kunstverein Amsterdam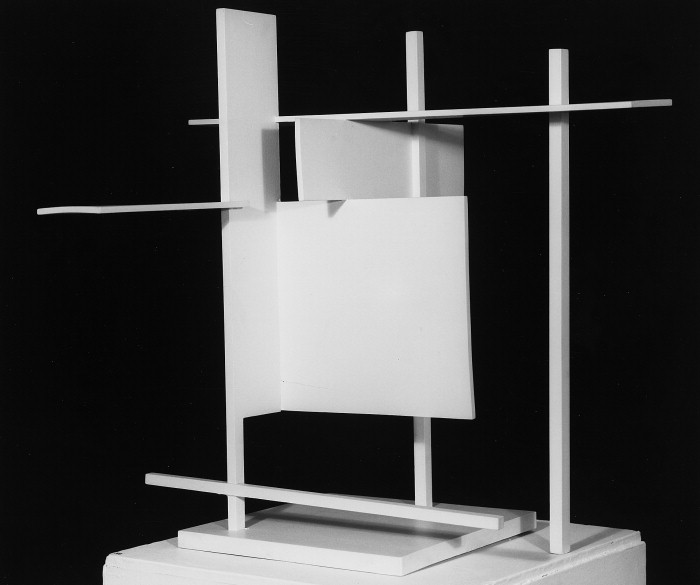 'Marlow Moss had short hair, combed completely flat and cut with absolute precision; had a high, white, forehead; had a narrow neck; had a small, oval, skull; had deep golden-brown eyes; her skin had a pale shine; her jaw and chin were a pure line; she was petite; had a sartorial style; wore jodhpurs and riding jackets; wore white blouses; Moss was a drag-king; a lesbian; a pseudo-man; her family did not support her choice to be a professional artist.' - 'Over half of the entire body of Moss's work is only known through black and white documentation or sometimes only through a catalog or auction listing with no visual record at all.'
On this occasion, Kunstverein Publishing is proud to launch the publication 'Marlow Moss' written by Riet Wijnen, designed by Marc Hollenstein. - 'Larry Bell and Sarah Crowner, Meet Marlow Moss' opened on April 20 and runs until June 22. - Larry Bell and Sarah Crowner, Meet Marlow Moss is made possible with the support of Stichting Niemeijer Fonds; Stadsdeel Zuid; Het Amsterdams Fonds voor de Kunst and Kunstverein's (Gold) members. With thanks to De Vleeshal, Middelburg
The Book Society / Contemporary Art Museum of Villa Croce, Genova
The Book Society is a project devoted to the most experimental forms of production in publishing, in its multiple manifestations, from catalogues to art books and magazines, is a space in which not only is something conveyed, but contents are developed and created. The Book Society involves creating a reading room in the Contemporary Art Museum of Villa Croce, Genova, the first one being dedicated to Book Works, which presents a selection of their artists' publications, alongside a short film about Book Works, posters by Jonathan Monk, and other printed matter drawn from their recent touring project Again, A Time Machine. May 9, 2013, from 12.00pm, Book Works organizes a day of events with among others, at 6pm, a talk about the overlapping roles of Artist/Editor/Publisher with Jane Rolo, Paul Sammut and Francesco Pedraglio (artist, curator and editor). (via manystuff)
Alisa Baremboym's sculptures are shown in both the main Nudashank Gallery and Gallery Four. Her intimate and frank objects combine unglazed fired terra cotta with smooth cables and straps. The clay has a flesh-like quality that informs the manufactured binding in various ways. In one piece, doughy folds of clay are twisted like a rag and loosely bound with a grey USB cord, two materials at apparent but passive odds. In another, a sheet of clay softly impressed with the relief of basement plumbing evokes a human back and spine. This form interacts with woven nylon and plastic straps and buckles to evoke something at once sensual and utilitarian. (text by bmoreart)

The oeuvre of Kees de Goede is not a succession of separate incidents; it has developed by means of series, through which De Goede manages to create great dynamics despite the confinement to a number of visual elements. In the stylization of his forms (which often hover between the geometric and the organic) and in the precise development of materials and color, one can see a constructive way of working. Each work is the result of meticulous considerations.

In De Goede's early work the image surface and the stretcher frame were manipulated into very material and visually influential factors. His fragile works from the late seventies consist, for instance, of thin carriers of rice paper, stretched across bamboo; the joints of the bamboo determined the places at which the geometric motifs and lines began. Several years later paintings were stretched over rough constructions of branches. He also hung canvases, like bags, over 'skeletons' of branches, thus giving rise to an empty form – a 'sculpture without flesh'.
The boy knew his father would wake him before dawn, but he had no idea it would be this early. Nevertheless, he dressed and tiredly tied his shoes; he knew he had a long walk ahead of him. His father reappeared in the doorway and spoke: "Son, let us go." They followed the road that bordered the property for about an hour. The sun began to peek over the tops of the trees. Even though he had done the long walk to the cabin at the end of every winter for each of his eight years, he didn't remember the air being this crisp. He cherished the annual spring-cleaning of the cabin.It was one of the few times he got to spend time with his father alone. They reached the point on the road where it crossed the path and turned onto it. The boy knew better than to judge the hike to the cabin by the first couple miles. While the path starts out following a creek in the flat countryside, it slowly ascends into the forest hills and even has two miles of rocky mountainous terrain before it drops off at the family cabin. He and his father were mostly silent until they reached the hills, which the boy was fine with. He could hear the sounds of the flatlands turning into the sounds of the forest, the tall grasses blowing in the morning breeze, the birds singing on the top of the tallest trees. The boy's father finally broke the silence: "You know, I used to do this walk with my father." "Really, Grandfather Samuel? The same path and everything?" "You know,
http://www.carolineachaintre.com/
Achaintre cites German Expressionism and post-war British sculpture as influences on her work; these movements are known for their crude aesthetics which conveyed the trauma of a war-time generation. Her work also draws from 'Primitivism', a style of early 20th century art that incorporated imagery from tribal cultures. Achaintre is interested in these periods because they present junctures between the ancient and modern, psychological and physical, exoticism and technology. Fevver broaches these terrains with its fearsome geometric face. Its brown thatched patterning looks like an animal skin, while its eyes seem strangely modern like sunglasses. Achaintre likens her work to anthropological museum displays, where objects are removed from another place or time and are brought into a contemporary context.
Battle of the titans : Chris Martin
james kalm visiting Chris Martin in his studio.
Battles seem to be popular these days...
Saturday 8 June, in the Submarine Wharf (The Netherlands)opens 'Battle of the Titans': Chris Martin, Jim Shaw and Klaas Kloosterboer

8 June - 29 September 2013
This summer the 5000 m2 Submarine Wharf located in the largest docklands of Rotterdam (the Netherlands) is being transformed into a gigantic art studio with work by three internationally renowed painters: Chris Martin (USA, 1954), Jim Shaw (USA, 1952) and Klaas Kloosterboer (NL, 1959). The exhibition XXXL Painting brings together new and existing works. Museum Boijmans Van Beuningen wishes to demonstrate the resilience and energy of the art of painting with a true 'battle of the Titans' between these artists.

Submarine Wharf
The exhibition in the Submarine Wharf is a result of a partnership between the Port of Rotterdam and Museum Boijmans Van Beuningen. The Submarine Wharf is of comparable size to the Turbine Hall at Tate Modern in London. Every summer for five years, the vast building hosts a specially made installation by a leading contemporary artist. XXXL Painting is the fourth edition, following projects by Atelier Van Lieshout (2010), Elmgreen & Dragset (2011) and Sarkis (2012).

Read more [www.submarinewharf.com]
part two of james kalm after the jump
For Spring 2013, Billabong has collaborated with internationally renowned artist Maya Hayuk. Maya's work is kaleidoscopic, prismatic and incredibly optimistic. Whether on canvas or spanning massive industrial building walls, her vision is truly louder than words. Since music is one of her greatest sources of inspiration, it's only natural that she frequently creates art for bands like The Flaming Lips, Rye Rye/M.I.A., The Akron Family and TV on the Radio.
Danh Vo, the artist best known for his conceptual sculpture series We the People (detail), has presented in the exhibition I M U U R 2 some 4,000 objects from the home of Martin Wong. Wong, the iconoclastic painter who died in 1999 of AIDS-related causes, gathered these objects over many years with his mother Florence Wong Fie, who assisted in the creation of this exhibition.
In 2012, Danh Vo (b. 1975, Bà Rịa, Vietnam) was named the winner of the Hugo Boss Prize, a biennial award that recognizes significant achievement in contemporary art. Vo's work illuminates the entwined strands of private experience and collective history that shape our sense of self. Emerging from a process of research, chance encounters, and delicate personal negotiations, his installations unearth the latent connotations and memories embedded in familiar forms.

The title of this exhibition, I M U U R 2, is derived from a formulation used by the artist Martin Wong (1946–1999) on his business cards and stamps. Vo has long been fascinated by the life and work of Wong, a visionary painter and beloved figure of New York's downtown art scene of the 1980s and '90s. After acquiring one of Wong's works, Vo struck up a correspondence with the artist's mother, Florence Wong Fie, and eventually visited her home in San Francisco. There, he discovered a remarkable collection of objects ranging from curios and tourist souvenirs to rare antique ceramics and scrolls of calligraphy, interspersed with numerous examples of Wong's paintings and works on paper.
Koenraad Dedobbeleer, You Export Reality to Where It Is You Get Your Money From / De Vleeshal
A large framework of steel tubes supports the exhibition. Its design is based on a drawing by Sol LeWitt. Within this framework various works are exhibited. Dedobbeleer's sculptures typically have a surreal twist. This Belgian artist's work deepens our insight into the multiple layers of objects and their external properties. What makes something a sculpture? A material object can be seen as a sculpture in its own right and, simultaneously, as the basis for another sculpture.

An artist liberates everyday objects from their usual functions, changing their significance by placing them in new contexts. Koenraad Dedobbeleer misleads his viewers; the individual elements of the objects he creates look familiar, but the object as a whole is often disturbing. The artist transforms functional objects through the location-dependent placement and use of photographs, projections, film and writing. Objects become elements of a larger whole, fusing into a diverse range of spaces whose elements influence each other on various levels. Untill June 23, 2013. De Vleeshal Middelburg. See also the publication by ROMA Publications.
http://hannahandlandon.blogspot.nl
Hannah and Landon live in New York. Landon is a painter and Hannah co-owns a small boutique and lingerie line. They live with 2 cats, 19 house plants and one couch dwelling brother.
SPACE WHOLE KARAOKE / Middlemarch

Ethan Cook, Ted Gahl, Parker Ito, Roman Liška, Larissa Lockshin,
Israel Lund, Landon Metz, David Ostrowski, John Roebas,
Travess Smalley and Kyle Thurman
Middlemarch is a project space for contemporary art hosted
in a private apartment in Brussels, Belgium.

Middlemarch maintains an open and diverse approach
to programming, including exhibitions, book launches,
performances, talks, and screenings.

Middlemarch
Chaussée de Waterloo 550
1050 Brussels
info @ middlemarch.be
Israel Lund / Dazed Digital

There's something familiar about Israel Lund's work, a built in memory you can't quite trace, peering into the static of a television or the pixels of a familiar JPEG. While his tongue-in-cheek paintings of Xeroxes of his own paintings of Xeroxes play into the banality of post-post-modern art's pillar of self-referential commodity, they are presented with a certain grandeur and beauty that eventually betrays their blatancy, and simultaneously exposes and negates their intimacy. Process painting in the Meta age produces a result that is both serial and nebulous, critical and trivial, which Lund's work manages to comment on with humor and visceral splendor. Like Warhol's Pop silkscreens in an age where the subject of celebrity finally been nullified, or replaced, instead, by the artist's own ego. Lund has a history of reproducing his own property, whether created, worn or found by him; using zines, books, sculpture and internet portals like Tumblr to distribute his work, gaining him an underground and international notoriety. Rob e rts&T lit on marks his first solo show, which opened Saturday at Roberts & Tilton gallery in Los Angeles, and he is currently exhibiting in group shows at both Galerie Torri in Paris and Middlemarch in Brussels.